The idea of a canine hydrotherapy centre came about through seeing a lot of dogs coming into the boarding kennels with problems and only having anti-inflammatories and rest as remedies for their ailments. I could see that all these dogs would benefit from hydrotherapy and decided to build a centre complete with a large swimming pool and underwater treadmill to alongside the boarding kennels.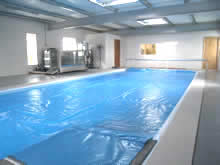 Having researched the project thoroughly, I decided to put in a large pool (some I have seen are no bigger than a matchbox!), an underwater treadmill and a hot spa to cover all scenarios. I visited Greyfriars Hydrotherapy Centre in Surrey and apoke at length to Angela Griffiths, it's principal, before deciding on the structure.
The new dog grooming parlour is also situated in the same building as the hydrotherapy centre and both of these businesses should compliment one another.
The team we have recruited have many years of experience in handling and treating injured dogs and I am confident in their ability to successfully treat your pet.
You are welcome to visit the centre - no appointment necessary to view the facilities any day between 9am and 6pm. Our pricing structure is very competitive and our initial prices are guaranteed for 9 months. Click here for more details on rates.