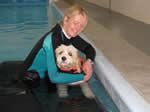 Anne Stewart left a successful career in dental nursing in Scotland behind her and came to Ireland to join our team. In November 2009 she completed a course on Canine Rehabilitation and Hydrotherapy at Greyfrairs Referral Clinic in Surray, England. Anne has had dogs all her life and has a particular interest and love for Hovawarts. Her own, home bred Hovawart won Best of Breed at Crufts in 2009. Anne holds agility classes at the kennels twice a week and these have become very popular. She also teaches one-to-one obedience training.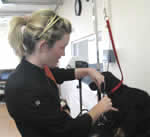 Leonie began working in the kennels after she completed school in 2000. She became particularly interested in the grooming aspect of the job. In 2001 Leonie went to train at Joanne Angus' Look North Dog Grooming Academy. Leonie continued to work in the kennels until 2005 when she went into grooming full time.
Leonie is a member of the Irish Professional Dog Groomers Association since 2007. She was also on the committee for 1 year for which shei was dealing with new member applications and answering queries from members, helping in the organising of grooming competitions and grooming seminars. Leonie competed at the Irish Grooming Championships in October 2010 in 2 classes. She won 2nd place in the clipped class with a Lhasa Apso cross breed and 3rd place in the hand strip class with a Jack Russel Terrier.
Leonie has also completed a course in Canine First Responder. It is a globally recognised 2 year certificate. The course follows the same protocols vets would use if they where first on the scene of your canine emergency.
She takes a keen interest in our greyhounds and is heavily involved in re-homing greyhounds through the European Greyhound Adoption Board. In 2008 she raised over €1500 for this fund by doing a parachute jump. Leonie also enjoys horse riding, swimming and camogie and has had great success with he dog Harvey in several agility competitions.
Mick has been running the Canine Country Club since opening it in 1995. The business has grown year on year and is now established as one of the country's leading boarding kennels and cattery. Mick shows Hovawarts and races Greyhounds and has had numerous successes in both fields. He is also involved in the re-homing of greyhounds. Opening this hydrotherapy has been his pet project for the last nine months.