The dog grooming parlour is purpose built and is run by professional dog groomer, Leonie Fahey, a highly respected member of the Irish Professional Dog Groomers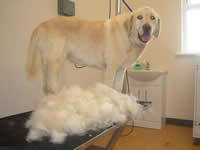 Association.
The state of the art dog grooming facility includes a wash room, 3 grooming stations and a walk in drying cabinet. There is usually a waiting list of between 10-14 days so book early to avoid disappointment.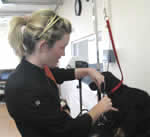 Services include clipping, scissoring, hand stripping, shampooing and ear, eye, nail and anal gland care. Facilities are available to leave your pet with us for the day at no extra charge.
The dog grooming parlour opens at 7.30am and last pick up is at 6.15pm. This is to facilitate people dropping off their pet to us on their way to work and collecting on their way home. The grooming parlour is closed on Wednesdays and Sundays but washing only facilities are available on those days.
View of the Grooming Parlour

Wash Room in the Grooming Parlour

Awards for Dog Grooming

British Dog Groomers Association Certificate

British Dog Groomers Association Certificate

Certificates of Achievement in Dog Grooming